Concrete Cleaning by Pressure Washing Professionals
Layers of grime, dirt, dust, and other contaminants can accumulate on your property over time and may be hard to see at first. Many property owners don't even notice when their once-welcoming properties have turned drab, boring, and unclean.
The Right Washing For The Right Surface
Materials like pavers can be power washed with a combination of heat and pressure. For most concrete and cement surfaces, pressurized water is best. Regardless of the method, cleaning is important for the following reasons:
Safety — Dirty concrete and cement surfaces can collect moisture and become slick underfoot. Concrete and wooden decks may be especially susceptible to this.
Prevent staining – Regular concrete pressure washing helps prevent permanent discoloration from mold and leaves.
Protect attached structures – Removing grime from cement floors can help prevent moss, algae, and fungus from creeping into and damaging attached walls, posts, and other structures.
Maintain longevity – Dirt and grime reduce the lifespan of cement and concrete.
Maintain value – Attractive pavers and concrete driveways help boost curb appeal and protect the value of your home or property.
Supreme Power Washing uses professional tools, materials, and techniques, to remove dirt when pressure washing concrete floors. But cleaning concrete is just one of our specialties.
Our other services include the following:
Depending on the surface and its condition, we use a combination of heat, pressurized water, and professional cleaning solutions to remove dirt and grime. We'll carefully clean the surface without damaging the material underneath, and leave your home looking like new. Whether you need pressure washing for concrete or power washing for pavers, your home is in good hands with Supreme Power Washing.
We are based in Aston, PA, and serve Chester County, Delaware County, and the greater Philadelphia metropolitan area. We also service some parts of Delaware. Check out the full list of cities and towns in our service area.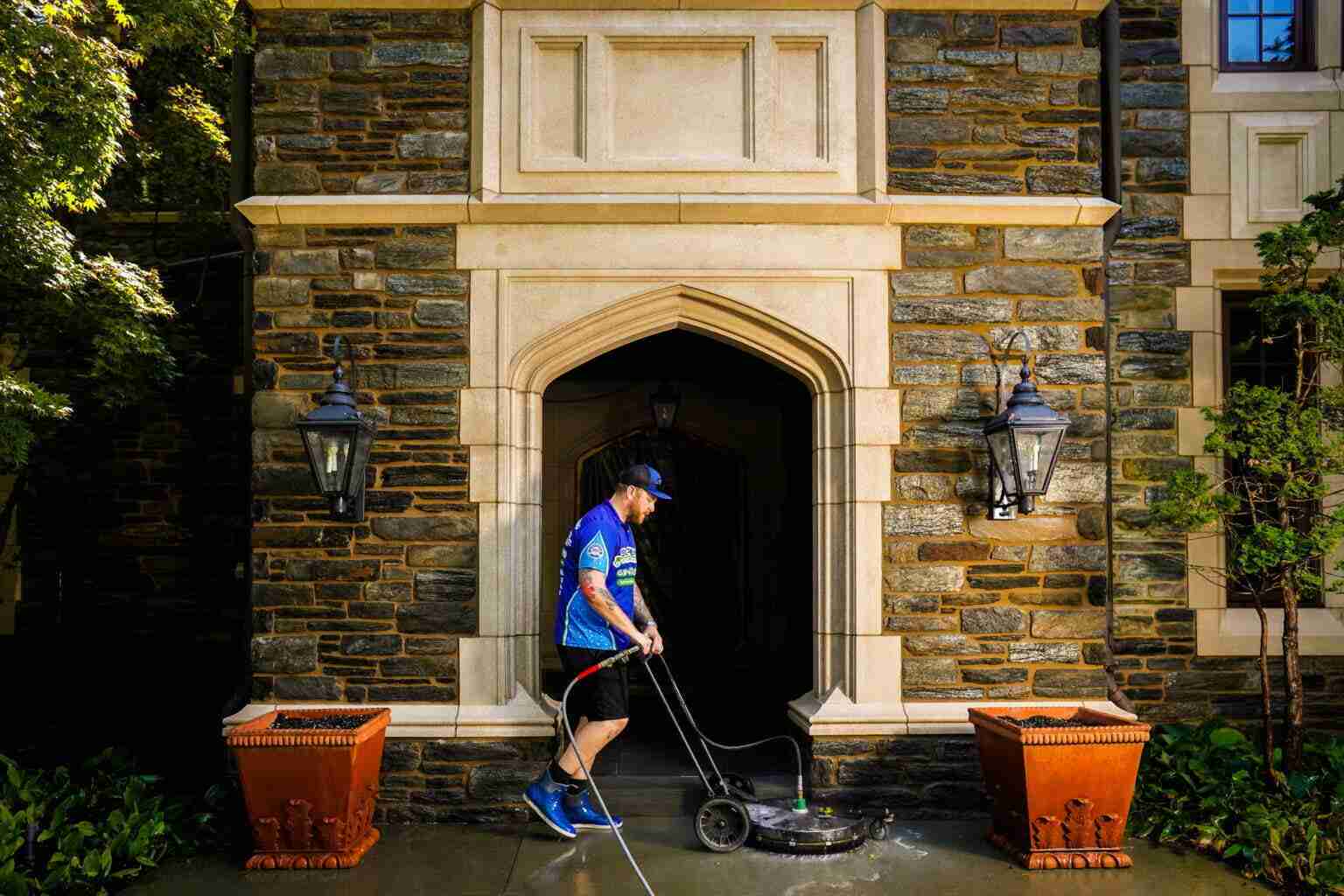 Sealing After Concrete Pressure Washing
After concrete cleaning, we recommend sealing for optimum protection.
Sealing provides a barrier that stops water from penetrating the surface. Since water can't get in, it can't freeze, expand, and crack your concrete. It can't offer support for microbes, mold, or plant life. Sealing helps prevent damage from salt or calcium pellets used to melt ice, and it can act as a shield to prevent discoloration or damage from spills.
After a good wash, sealing is essential to prevent efflorescence, or the slow migration of mineral salts to the surface due to moisture. Efflorescence can weaken cement and concrete surfaces.
Regular concrete pressure washing, followed by sealing, are important steps if you want to preserve the strength and appearance of your property.
Enhance Beauty, Retain Value
Concrete and cement flatwork like driveways, stairs, and sidewalks, are magnets for dirt and scuff marks. Our experts at Supreme Power Washing can remove these eyesores and more, and return your home to its natural beauty.
Take a look at these before-and-after photos to see some of our incredible work.
Learn how affordable power washing pavers and cleaning concrete with pressure washing can be. Gives us a call today or use our contact form and get a free quote!
Supreme Power Washing is the company to call if you need the best pressure washing service in PA. Please call
610-675-7279
or use our online form to submit a request.