We all enjoy excellent street murals, but markings that detract from the appearance of your business are never welcomed. Graffiti removal is not a simple task, so we say that it is a job best left to the pros. Don't worry about your walls. When it comes to removing spray paint and other graffiti markers, Supreme Power Washing can handle that.
Let us restore it to its former glory. Supreme Power Washing's professional pressure washing specialists in PA have the experienced graffiti removal service you're looking for.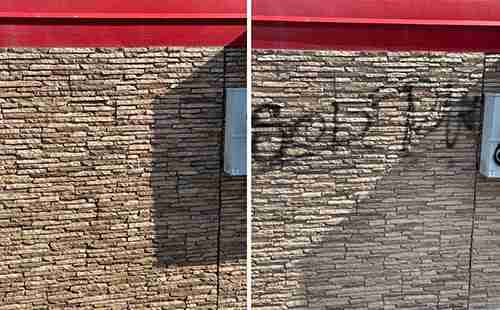 Count on the Top Graffiti Removal Professionals
Removing graffiti is not easy or difficult, but it is certainly best left to professionals because poor execution will make the issue worse.
Supreme Power Washing uses a range of pressure washing techniques to remove graffiti. Soft washing is one of them. Soft washing is ideal for cleaning surfaces thoroughly while still requiring some delicacy. It uses lower water pressure to loosen any embedded pollutants and employs a potent blend of premium cleaning ingredients. After the removal of undesirable objects from the surface, we use a thorough rinse to expose a clean, shiny surface.
Graffiti removal requires specialized cleaning materials to ensure a job well done. It's always eco-friendly and secure for your clients, landscaping, and us to use our premium cleaning products. As your surface material necessitates a skilled eye and touches for cleaning, our crew is equally mindful of this. Untrained pressure washers damage a surface by using the wrong solution on it. That is why it is wise to work with Supreme Power Washing, PA.
The Benefits of our Graffiti Removal
In no time, our team will remove all signs of unwelcome artwork and labeling to reveal a cleaner, more appealing outer surface. Delegate the task to our team of graffiti removal experts as it might be challenging or even impossible to remove it by hand. We provide our clients with a professional yet affordable graffiti removal service.
Call us or fill out our online service request form today to get started on swift graffiti removal for your property. The outcome won't let you down, we promise!
Supreme Power Washing is the company to call if you need the best pressure washing service in PA. Please call
610-675-7279
or use our online form to submit a request.